Advantages of Using Concrete Look Tile for the Home
Posted by That Tile Lady on Jan 10th 2022
Renovating and redesigning a home can be a lengthy process that is much more involved than you initially gave it credit for. There are so many smaller details to consider that it can keep you quite busy while you are trying to fit all the pieces together to create the perfect vision that you have imagined for your home. Since this is your and your family's home, you want to get all the little details just right so that it looks and feels like home.
This is the place you rely on for shelter and comfort, so you really want to make this of all places, line up with your idea of a comfortable, cozy home. Looking at it detail by detail might help you to line up what you need to take care of and figure out the order in which you want to work things out, so let's start off with the foundation and go from there.
At Brick City Tile, we have seen many families and individuals lay the groundwork for interior design in their houses using wall and floor tiles, to much success. It is a great option for entire expanses of space or as accents in different rooms. Your main decision for choosing your ceramic or porcelain tile is the style you want to go for. With porcelain or ceramic tiles, you can achieve just about any sort of look by selecting the right style that fits with what you had in mind and helps you to make the whole house come together. A highly popular design for floor and wall tiles in the home is the concrete look tile, for a number of reasons. We want to go over just a few of the bigger reasons that we often see people choosing this sort of porcelain tile for the home, so you can have a solid, general idea of what makes the concrete look tile so attractive. If you find that any of these points strikes a note in your heart and lines up with your preferences, then you might be excited to learn more about this option.
Affordable Option
As we briefly mentioned earlier, redesigning the home can be quite involved and add up to a considerable amount rather quickly. Unless money is no object to you, it is greatly rewarding to be able to cut expenses here and there without having to cut corners on quality. You can have it both ways with home design that is fairly priced and still falls in line with your vision; you just have to find the styles that allow these two priorities to overlap. We find that this is often the case with the concrete look tile since it is so affordable in general. If you were already considering using poured concrete for your floors, then you will absolutely be excited to hear how concrete look tiles can be so much more affordable. They have a less complex installation process that involves fewer people, less time, and less effort. Many people are even able to install their own porcelain tiles if they have some sort of experience in handiwork around the house. Considering the cost of everything from purchasing the tiles to installation and upkeep, it is much more affordable to get concrete look tile for the home.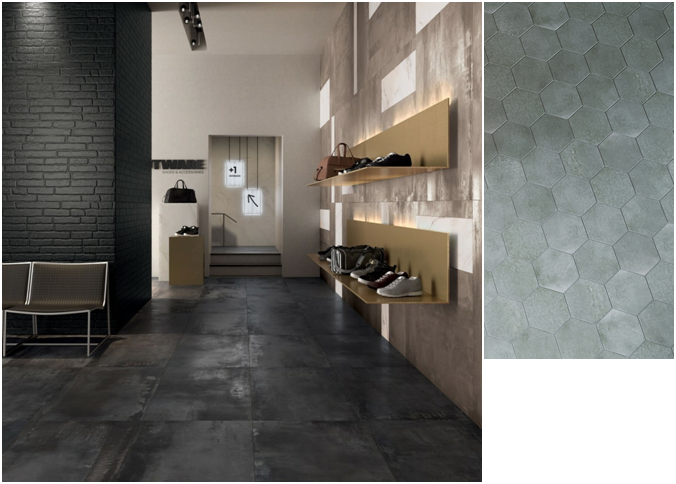 Neutral Color Story
To mimic the look of concrete, these tiles stick to neutral colors in the grayscale. That is, you will find these tiles in some shade of gray ranging from a very light gray to a deep charcoal. While each shade fits a completely different style, they all contribute to a neutral color story that gives you freedom to decorate your home as you wish without the colors competing. You can get this effect for your floors or walls and make them work in any room.
Looks Great Over Time
Since we consider the home a serious investment in our lives, we really want to make sure that our purchases and renovations are built to last. This will give us the best value for what we spend on the home. It is a great idea to consider longevity when purchasing things that are so fundamental to a home. Things like pillows and wall art may come and go, but you want your walls and floors to hold up well over time. A porcelain floor can do you a lot of good since it is known to be long-lasting and durable. Concrete look tiles, compared to poured concrete, are also a great choice in the long-run because they are non-porous in nature. This means that the tiles are smooth and do not absorb liquids into them, so if you spill a drink on the floor, you do not have to worry about the floors getting stained as you would with actual concrete, which is very porous. In order to make concrete floors non-porous, you have to coat them with a clear sealant, which is more trouble on your part. It becomes another expense and gives you something else to keep track of. Concrete look porcelain tiles are much better for families with children or pets, since they are known for being quite messy and are bound to leave some sorts of stains on the floors or walls. It helps that cleaning these tiles is also easier since they are not porous and more smooth. You can wipe down and clean your porcelain tiles much more easily than concrete, which just adds to the appeal.
These are the main points that we think convince people to use a concrete look tile to create the design they want for their homes. You have some great flexibility here with this kind of tile, so enjoy it and see what it can do to help you bring your visions for your home to life. We are quite happy with our collection of concrete look tiles, so take a look for yourself and imagine how each would look in your home before settling on the right ones. If you have any questions about our porcelain tiles here at Brick City Tiles, feel free to ask via email at hello@brickcitytile.com and we will be happy to help.