Falling for Tiles: Embracing Autumn's Allure and Texture Trends!
Posted by That Tile Lady on Oct 18th 2023
As the crisp autumn breeze begins to weave its way into our lives, it's the perfect time to cozy up your home with the warmth and beauty of fall. This season, the world of interior design is abuzz with exciting trends, especially in the realm of ceramic and porcelain tile. Let's explore how these trends can transform your spaces, bringing the enchantment of fall indoors.
Deep Greens: The Elegance of Forest Tones
This fall, designers are taking inspiration from the lush forests, infusing interiors with the calming and sophisticated tones of deep greens. Think emerald, pine, and moss – these shades add a touch of opulence and a connection to nature. Deep green tiles, whether in glossy finishes for a touch of luxury or matte for a more understated elegance, bring a sense of depth and richness to spaces. Use them as accent walls, kitchen backsplashes, or shower enclosures to infuse your home with the serene ambiance of the forest.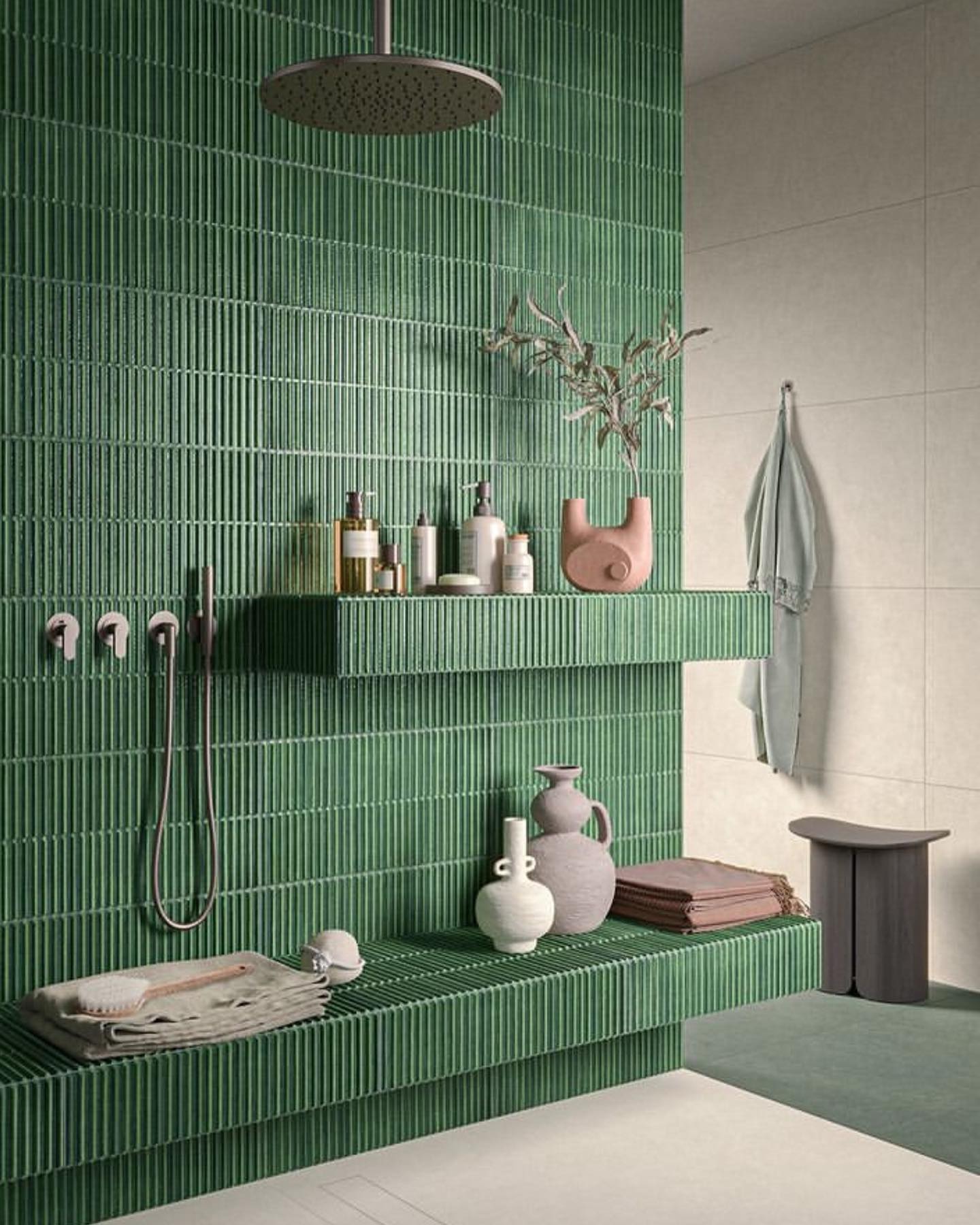 Three-Dimensional Surfaces: Adding Depth and Drama
Three-dimensional tiles have taken the design world by storm, and this trend is only getting stronger this fall. The allure of textured surfaces creates a tactile experience, making your walls come to life. Imagine intricate patterns, geometric shapes, or organic motifs adorning your living spaces, casting fascinating shadows and adding a dramatic touch. These tiles are perfect for creating feature walls or accentuating specific architectural elements, making a bold statement in any room.
Earthy Textures: Celebrating Imperfection
Embrace the beauty of imperfection with tiles that celebrate earthy textures. Matte finishes, rough surfaces, and imperfect glazes are becoming increasingly popular. These tiles create a sense of authenticity and warmth, making your space feel inviting and cozy. Earthy textures work exceptionally well in spaces like kitchens and dining areas, where the tactile experience enhances the overall ambiance.
Muted Neutrals: Timeless Elegance
While deep greens steal the show, muted neutrals remain a staple in fall tile trends. Shades like soft taupe, warm gray, and muted beige provide a timeless backdrop for bolder design elements. Pair these neutral tiles with the rich greens and textured surfaces to create a balanced and harmonious aesthetic. These tiles are versatile and can be used throughout the house, creating a cohesive flow from room to room.
Harmony in Tile Choices
When it comes to tiles, harmony is key. Mix and match different tile types seamlessly. Incorporate deep green porcelain tiles in the bathroom, blending them with shower tiles in complementary hues. Extend the palette to your kitchen backsplash, ensuring a cohesive flow throughout your home. This thoughtful coordination not only enhances individual spaces but also ties your home's design elements together.
In conclusion, this fall, interior design is all about bringing the enchanting essence of the season indoors. With deep greens, three-dimensional surfaces, earthy textures, and muted neutrals, your home can undergo a stunning transformation. By incorporating these fall tile trends into your spaces, you not only stay on the cutting edge of design but also create a home that exudes the warmth and beauty of autumn, making every day feel like a cozy retreat.