What You Need to Know before You Reoutfit with Large Floor Tiles
Posted by That Tile Lady on Oct 26th 2021
So you're at this crucial stage where you're weighing the potential to outfit (or reoutfit) your home with large floor tiles. It's a big job, it's going to take some time and it's going to involve some budgetary considerations.
You want to make sure that you're happy with the finished result the first time around. Here are some pointers we have for you to make sure you're making the right purchase and will be satisfied with the project once it's completed.
Check them out and call us if you have any questions about tiling or our specific products before you get started!
What Are the Tiles Made of?
Probably the most important factor you need to settle before you begin a retiling project is to make sure you pick the right tile material. For example, some homeowners might be tiling because they got tired of the constant maintenance of a carpeted surface. Some others might be replacing old, worn natural flooring (or stone) with a modern tile alternative that will handle traffic and wear more admirably.
Tiles made of natural materials, like marble and granite, are beautiful, and unique - no two tiles are exactly the stone. However, they are absorbent, liable to damage from moisture, acid, chemicals, and more. They can also be chipped and scuffed far too easily. Their beauty comes at a price; they're hard to take care of.
By contrast, materials like porcelain or ceramic can be made to look just like the real thing and are much more resistant to chemical influences, moisture, wear and tear. They're also easier to take care of.
For example, porcelain tiles can be made to look like a variety of other natural materials, like marble and wood. However, unlike these, porcelain will not absorb moisture and does not encourage the growth of bacteria. It's also extremely hard and resistant to chipping, cracking, and breaking. Together, these features make it a surprisingly low-maintenance alternative to natural materials like stone.
Ceramic tiles, which are also very popular, are a little more budget-friendly than porcelain tiles. They're typically not as expensive, and though they're not quite as durable or resistant to moisture absorption, they're still relatively tough and low maintenance.
Many of our marble look tiles, for example, are made from extremely tough, resilient porcelain that is much less susceptible to damage than the real thing. If you'd like any pointers on what type of tile to pick for your project, contact us!
Where Will This Be Used? (And How Do I Match the Design)
Another important question to ask before you purchase tiles for a new project is one of where the tiles will be used.
If you're going to be using the tiles in an entryway, a hall, or another high traffic area, matching the setting with an elaborate pattern or finish may not be as necessary as purchasing tiles that match the color scheme and will hold up to the traffic. This is especially true if heavy furniture will be rearranged across the surface frequently, or if people will be constantly coming and going.
If you're going to use large floor tiles to redo a bathroom or another setting that experiences less traffic, matching the aesthetic becomes more important. Consider patterns and color schemes more closely and try to make a match for the setting.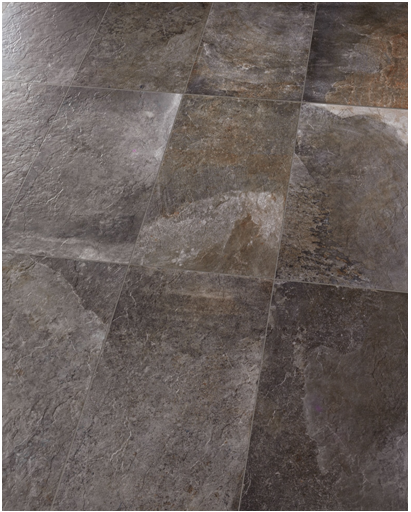 Are They Surfaced Properly? (Not All Large Tiles Are Suitable for Flooring)
Another thing that it's important to consider is the finish of the tile, precisely because large floor tiles must be finished properly in order to be safely used on as flooring.
Many popular styles of wall tile, like subway tile, which are glazed and have a slick, sealed surface, are not safe to use as flooring. They're slippery even when dry and more dangerously slippery when wet, making them unsuitable for use as flooring, especially in areas like bathrooms and kitchens.
Large floor tiles should have a matte finish or even be textured. This makes them much safer to use in flooring as they provide better traction and won't be as dangerously slippery when wet.
Why Large Floor Tiles Are Better (Less Grout)
If you're thinking about the potential to outfit your flooring with smaller tiles, there actually is an advantage to larger floor tiles: they are easier to clean.
The main reason that larger floor tiles are better for flooring than small tiles for maintenance purposes is that there are fewer grout lines with larger tiles. Even if it's sealed and properly cared for, grout is still a place where dirt gets in and it's hard to get out. It's a lot easier to clean the surface of the tiles themselves, so less grout on a floor is generally a good thing.
Why (and Where) Tiles Are a Great Choice for Flooring
Alternatives like hardwood flooring and carpeting are great for a lot of reasons. Hardwood, for example, can add a lot of class and character to a setting. Carpet can be more comfortable, better for retaining heat, and provides better traction. Carpet can also very closely match the aesthetic of an interior.
However, flooring like these just won't stand up well to high traffic and lots of movement. For example, even if you fastidiously care for it and shampoo it periodically, the carpet will wear out and get dingy over time in response to high traffic. You can't keep it new forever.
Tile, by contrast, is excellent for high traffic areas and much easier to keep cleaning and looking new.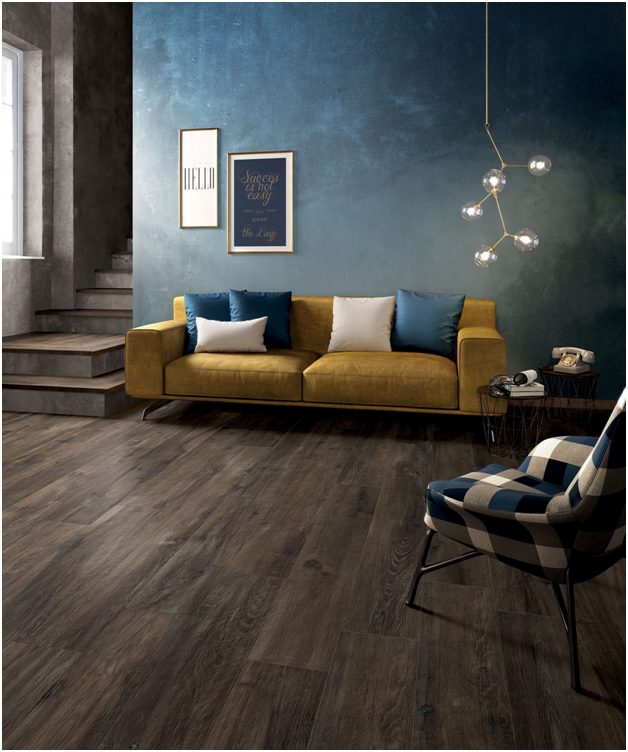 Get Your Large Floor Tiles Online (Here's Why)
When you choose to buy your large floor tiles online (from Brick City Tile) you can stand on our experience. We've been around for more than a century and know the industry inside and out. If you have questions, you can ask us in full confidence that the industry authority will be furnishing the answer.
Our selection is also unrivaled. Our collections of floor and wall tiles contain ceramic, large format porcelain, marble look tiles, and more in a variety of sizes, colors, shapes and for equally as many applications.
If you have any questions about any of our large format tiles for flooring (or any of our other tiles), please contact us at hello@brickcitytile.com and we would be more than happy to help.