Why You Should Style Your Home With Marble Look Tiles
Posted by That Tile Lady on Oct 12th 2021
The look of marble is one of the most popular when it comes to interior design and for good reason. It is unquestionably beautiful and helps to elevate the look of the home immediately. We understand how beloved marble designs are in home decor, so we make sure to offer a diverse selection of different marble look tiles at Brick City Tiles, giving folks all the options they could need to design their dream homes.
If you were considering adding marble designs to your home, then we have some thoughts that might interest you.
Creates a Clean Look
Marble look tiles can help contribute to that since marble creates a clean, timeless look, especially if you choose ones that have a light color as these tiles can help to brighten up the room and make the space feel more fresh and open. If you mainly want your home to look fresh and carry on a minimal design, then marble look tiles are a great way to go. They are fairly simple on their own but have just enough details within the look of marble itself to make them a great backdrop. Marble is not just a pure, flat color, but rather a natural design. It has a mix of colors that take different forms and swirl together in the stone to create a look that has dimension without being distracting. Using marble look tiles can give your home a clean, simple look that is far from flat.
Easy to Decorate Around
Because marble is such a classic style, it is fairly easy to decorate with in your home. Interior design just isn't everyone's strong suit, and that's absolutely fine. You can't be expected to be a master of everything. Although home decorating may not be your forte, it could still be something that interests you nonetheless as it does affect your day-to-day home life. Thankfully, there are lots of tricks to help you design your home in a way that is simple but effective.
Perhaps the easiest way to go about designing and decorating your home is to stick to classic styles. Designs and features that are timeless can get you quite far as you try to establish a certain look for your home.
Elements like marble look tiles pair well with different decorative details and can make decorating easy. It's as if marble tiling gives you a blank space to work off of and from there you can introduce new details to it while maintaining a fresh, elegant look. It could be as simple as using elegant lighting fixtures and perhaps a few home goods items like vases to fill out the room. The marble look does much of the decorating work for you.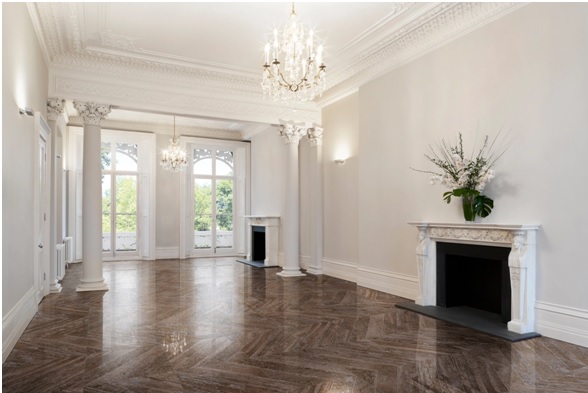 Marble for Lower Cost
Anyone who has had to take part in home renovation, even to a modest degree will know well enough that home remodeling can become quite pricey right away. It does not take too long to start noticing the receipts adding up to a considerable amount and testing your budget. There are so many details to consider that you might not have thought of before, that the expenses for everything might take you by surprise.
This is your home, and property, so it makes sense you would be willing to invest so much into the state of the building. Of course you would want to get everything just right, whether you plan on selling the house in the near future or you want to live there for the next decades of your life. Realistically, you need to be able to balance what you are able to spend with what you want to see in your home. If you are careful about what you choose to work with and create in your home, you can find some clever ways to save on your remodeling expenses without cutting corners or drastically compromising on your vision. If you had your heart set on the look of marble tiling being in your home, but want to save wherever you can, you can consider marble look tiles as a more affordable alternative. It gives your home the appearance of marble without actually requiring you to shell out for a large quantity of marble tiles and then the higher costs of installation. You can spare some of your budget by using marble look tiles, while still getting the same effect you wanted for your home.
Easy to Maintain
Managing the look and condition of your home goes beyond day one of your purchasing decisions.
What you have set up in your home can be what remains there for years, so you want to make your decisions based on what you are willing and able to upkeep over time. In the case of marble tiling, the upkeep is long-term. Marble is, as all natural stones are, porous, meaning it has tiny holes through which liquids and other substances can pass through or get caught inside. In order to maintain the appearance and integrity of your tiles, you need to seal them upon application and then reapply the sealant regularly from that point on.
Without a proper application of sealant, your marble will be vulnerable to any sort of material such as abrasive cleaning materials, spilled beverages, and dust. All of this could affect the appearance and quality of your tiles, making them significantly less appealing. Sealing your marble tiles is an added expense and effort that some folks simply do not want to commit themselves to.
On the other hand, marble look tiles are made of porcelain, a non-porous material that does not require a sealant in order to be preserved. They are ready to go upon installation and then they are much more secure from things like scratches and stains than unsealed marble tiles. It is the better choice for those who prioritize convenience and low-maintenance in the long-run.
Let us help you create the vision you have for your home, incorporating marble into the design. We have a range of marble look tiles in different colors and patterns at Brick City Tiles, so you can find the exact design you want gracing your home.