With Porcelain Tile Slabs, the Possibilities are Limitless- Explore XL Tiles
Posted by That Tile Lady on Apr 1st 2022
When you think tile, you probably envision something along the lines of a subway tile, or maybe a hexagonal tile. Certainly nothing larger than 12 inches by 12 inches. And nothing that could be applicable beyond flooring and walls.
But a new breed of tile, led by porcelain tile slabs (aka large format tile), is dismantling that long-held perception. (Of course we were setting you up.) These oversized tile panels (or slabs) can measure as long as 15 feet, as wide as five feet, and as thin as 3.5 millimeters, which makes them a viable option not just for the aforementioned conventional uses but also a slew of others, including:
Kitchen islands
Kitchen/dining tables
Shelving
Benches
Coffee tables
Porcelain tile slabs can be used to create original furniture for a particular space, or installed directly over other surface materials. Either avenue will help you achieve a bespoke look for your home. The best way to go about exploring your options is to work directly with a designer and a tile installer.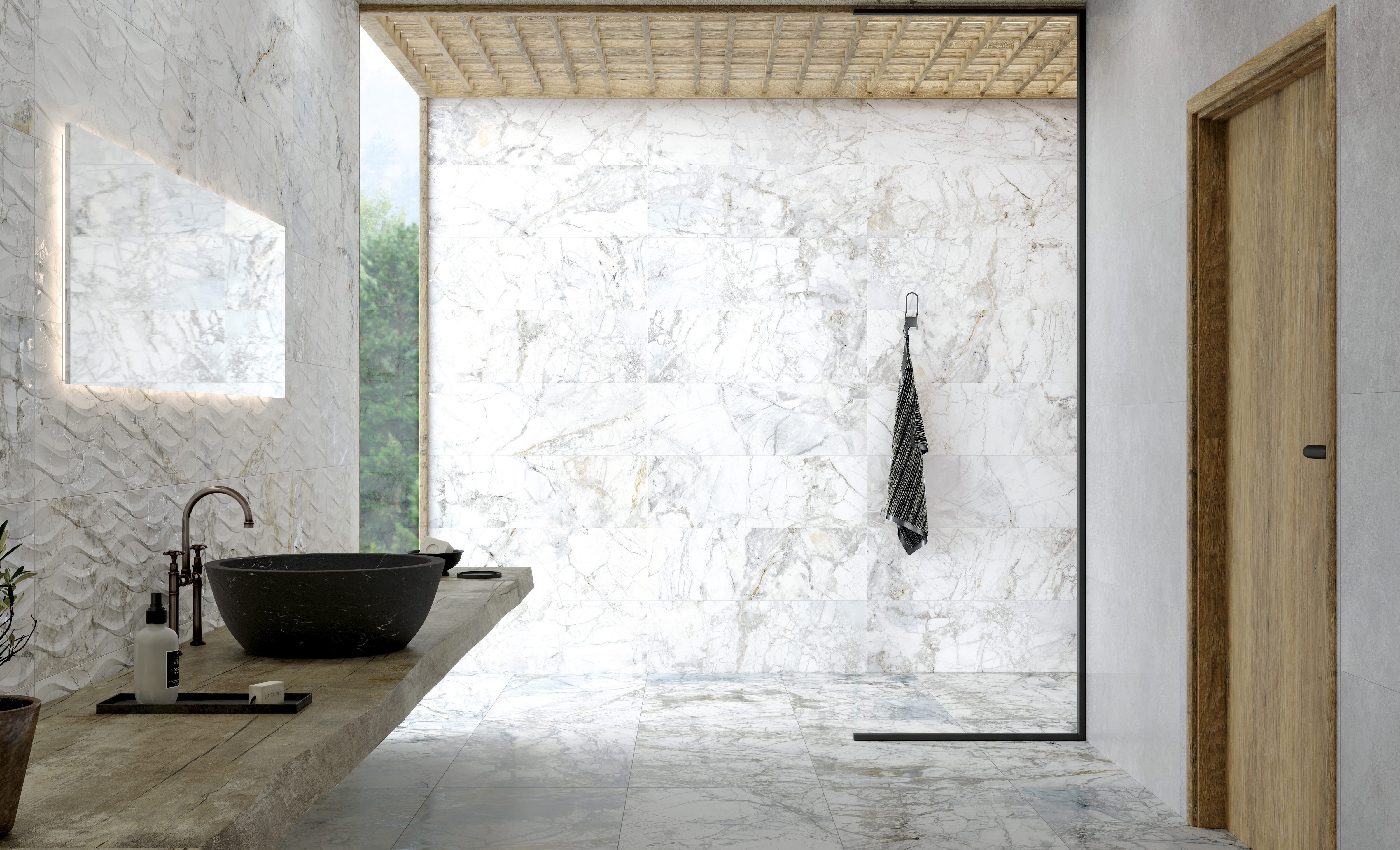 Practical advantages
While slab tile may look next-level, aesthetically speaking, are there any practical advantages to opting for it over more traditional materials, like wood, metal, and natural stone? In a word: definitely.
Much as we covet wood's authenticity and nuance, it's vulnerable to damage from moisture (hello, rings from coaster-less drinks), fading from exposure to the sun, and scratches from sharp objects. Gauged porcelain, by contrast, is water-, stain-, fade-, and scratch-resistant. With minimal maintenance, it'll look as new as the day it was installed for many years to come.
It's versatility also can't be overstated. Natural stone can't be produced to be as thin as gauged porcelain slabs, which makes gauged porcelain easier to transport, handle, and install. Even more, gauged porcelain can be more affordable than certain types of natural stone, including marble and onyx. And it's the more sustainable option.
Aesthetically pleasing
Generally speaking, marble looks are a popular choice for gauged porcelain tile panels. Other kinds of natural stone and cement are starting to trend in a big way, too. But here's maybe the best part about gauged porcelain: It can be almost anything you want it to be.
Porcelain tile can be manufactured in an almost limitless range of natural looks, patterns, colors, and even textures. Select a wood-look porcelain tile for a kitchen table and built-in shelving, or granite-look porcelain for a kitchen island. Or go in your own direction and choose a single bright color for all the furniture in the room.
Just keep this in mind: Whatever design you go with will be amplified. These tile panels are massive surfaces, remember. Don't be afraid to push traditional design boundaries. But, above all, have fun with it.