Perfect Places To Install Concrete Look Tiles in 2022
Posted by That Tile Lady on Feb 9th 2022
Tile has taken off in the last decade or so, perfectly mimicking the hottest concrete designs and extending into new horizons with the most inventive forms, styles, and patterns in the flooring industry.
Things are about to become much more interesting in 2022, and we've put up the essentials to fill you in. You may expect to see a lot more huge concrete-look tiles and other eye-catching patterns and designs in the near future.
The most exciting aspect of this year's tile flooring trends, as I have previously said, is the realistic appearance that manufacturers like us are able to achieve. The attention to texture and color variation in modern tile makes the concrete look one of the most popular choices for flooring.
Concrete Look Tiles
Modern interior design is becoming more and more concrete! Concrete flooring, concrete worktops, concrete slabs — you name it. The futuristic, industrial aesthetic is all the rage.
Even in the year 2022, warm, rustic designs will still be popular, but a more chilly, industrial appearance also seems to have a place in this era of change. If you're looking for something more contemporary, a concrete look might be a great addition to a fashionable apartment.
Even though it's a more specialized style, it's one that's relevant to keep an eye out for in 2022.
It is necessary to use current materials for contemporary design ideas. This covers the flooring in your home as well. Wood and stone may be used in many various ways, but nothing comes close to the modernity and coolness of concrete. However, pouring concrete may be a dirty and expensive undertaking. Although concrete floors can be beautiful, they can also be overbearing in some areas.
We have a wide variety of concrete effect tiles for you to choose from, ranging in color and style from matte grey to bold high-polish designs, making it easy to get the look you're going for. In truth, there are several advantages to using concrete look tile in our houses that we haven't yet understood.
One of them is that they are also considerably less permanent, which means that you will not have to undergo a major building project if and when you decide to give your home a new look.
Why Use Tiles Over Poured Concrete?
Among flooring materials, concrete has always been a popular choice. There is no denying that pouring concrete into your flooring is a massive undertaking. It's also not simple to swap to a new sort of flooring in the future if you desire a different look.
It's hard to go wrong with these concrete look tiles if you're a fan of the aesthetic and just want something a bit more adaptable. Instead of having to clean out your premises once your hired crew comes in, these neat alternatives can you with the contemporary style you desire! No sweat.
Well, probably just a bit.
Cost-effective, long-lasting, and simple to install are all benefits of using porcelain tiles in your home. This is a no-brainer, really.
Places Where You Can Use Concrete Look Tiles
Your Porch Area
For the regions leading to the front door, select floor tiles that complement the décor. Gray concrete hexagon tiles, which are easy to maintain and ultra-sleek, may help you create an impression in your house, starting with your porch. Additionally, they'll function great in laundry rooms.
Your Kitchen
Choose our Galaxy Gray tiles for your kitchen. These tiles are strong and durable, and you can wipe them down to make them seem pristine in minutes. Sleek stainless steel, black, or crisp white appliance will look great next to them, too.
Your Living Room
Design your living room using concrete-effect tiles as a focal point of the area's décor. Our Interno Dark tiles, when combined with an area rug, add spice and sophistication to your living areas. They are a wonderful choice for designer-inspired areas where you can spend quality time with your family as well as host a gathering of friends and visitors.
Your Bathroom Walls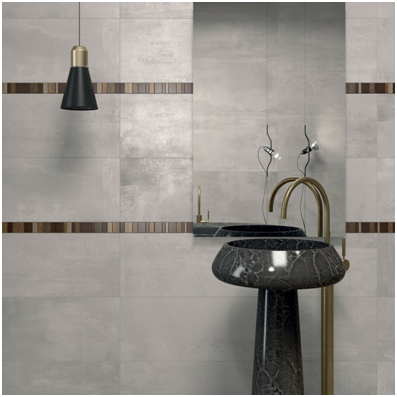 Make use of our Interno Pearl tiles for the walls of your bathroom. They may be used to create an elegant all-over effect or a mosaic-style design by interlacing them together. These tiles may also be used to make a beautiful shower wall design. Combine Interno Pearl tiles with industrial bathroom fittings for a unique look.
Our Porcelain or ceramic tiles may be used to create virtually any design you like be it industrial, minimalist, or contemporary, as long as you choose the proper style to match your vision and tie your entire house décor together.
Using concrete-look wall and floor tiles, our customers at Brick City Tile have been able to successfully begin the process of designing their homes' interiors. It's all about the look you're going for when it comes to ceramic or porcelain tiles.
Get in touch with one of our knowledgeable representatives right away. If you have any questions about our products or services, please contact us at hello@brickcitytile.com.